Welcome to Great Creek Canines. I am Jackie Boone and I have been breeding dogs for over 30 years. My love for dogs has grown from the time I can remember, but in my sophomore year of high school, I met my future mentor who happened to be my Biology teacher. She is an incredible woman and had an amazing breeding program and I was hooked the first time I went to help her with her dogs. She took me under her wing and taught me so many things about breeding, showing and caring for dogs. I am forever grateful for the guidance and responsibility she has instilled in me. I hope to carry on her legacy in my dogs.
My husband and I met in 1997 and the rest is history. John is an educator and works near our home town of Pelzer and has been a teacher t for the past 20 years. In his off time, he is working on our branding and helping me work towards our blog and podcast for Great Creek Canines. He also helps to love and care for our younger children along with the dogs and puppies! We have a family of seven children, eight grandchildren and currently have 17 dogs, which includes rescues and range from several months old, to over 16 years old.
Our Golden Retrievers are our family. We love each and every one of our dogs and work hard to have the healthiest and happiest goldens out there. We are working to add health tested and OFA certified dogs in our breeding program. Every family can look forward to the best quality puppies we can possibly produce.
We look forward to your family being a part of our family!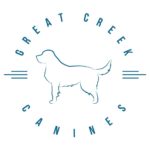 I was in the market for months for a golden retriever puppy. We live in south Florida and most reputable breeders of golden retrievers are not in our area, so I started looking in other states to find that perfect puppy. I spoke to many breeders, and was baffled by how many were willing to put their 8 week old puppy on a plane to fly down to us, I just couldn't do that. I was taking a big risk with just picking out a puppy based on pics and some video, never actually interacting with this puppy scared me. I was also nervous to give a large deposit on a puppy to a stranger, there was no guarantee that this breeder was ligit or I was getting what I paid for. After joining several retriever sites on fb and seeing the amount of scammers, I took a break with looking. Thats when I met Jackie. I work nights, and on a particularly slow night I saw a post on facebook showing a few of her puppies, I messaged her telling her that her puppies were beautiful, she immediately answered, and that was it. Jackie and her family are beyond amazing, she answered every single question I had, sometimes twice. I never felt pressured with her. The time and love she puts into her puppies is incredible, this is a passion for her family, not a hobby. Jackie became like family to us and nurtured my Charlie for the 8 full weeks, then she HAND delivered my puppy from her house to mine for a ridiculously inexpensive travel fee. We still keep in touch months later, and she always answers any questions I may have. Great creek canines is by far an amazing family run establishment that cares about not only their puppies, but the families that these babies go to as well. I truly cannot say enough about Jackie and her family, i will only recommend her to people in the market for a golden puppy and will only use her in the future if we decide to add a second puppy to our family.
Kristen Laighold Dash
Great experience adopting our family's first Golden Retriever. Thank you Jackie for an awesome puppy!
Chris
We adopted two pups; Jax and Macy. Very well cared for and well balanced pups! Highly recommend!
Paul Armentrout
Wonderful breeder of BEAUTIFUL golden retrievers! Breeder welcomes questions and is full of information. These puppies come from a loving home.
Kerri Williams